Product Description
Products Details
                                                           Hot Sale Low-bed Axle 11.5 T For Semi Trailer 
1. There are 2 kinds of axles, one-piece axle tube and welded tube, solid axle head, long service life.
2. High-qualitynon-asbestos environmental protection friction plate, good performance, easy to replace.
3. Bearings are high-frequency hardened,with large bearing capacity, high speed and safe use.
4. The tire bolts are made of alloy steel with high strength. Equipped with 2 positioning sleeves.
1. Provide customized services.

 

2. It can be equipped with ABS brake.

 
Accessories
Model

Capacity
(T)

Track(mm)

Axle Tube
(mm)

Brake Size

PCD
(mm)

Total Length
(mm)

Recommended Wheel

LH-11

11.5

1850

○127

311*190

225

2166

6.5
It adopts high-quality accessories from major brands at home and abroad, and global standard American axle specifications. It has strong practicability, low price and convenient maintenance.
Axle
The factory produces its own shaft tube with quality assurance and cost advantage. The assembly process strictly abides by international quality standards to create high-quality products.
Our Company
ZheJiang Xihu (West Lake) Dis.ng Machinery Manufacturing Co., Ltd. is a professional supplier of semi-trailers and trailer parts, committed to improving quality and insisting on the principle of "innovation, quality, professionalism and mutual benefit" to achieve the goal of satisfying customers. Strong technical force, superb manufacturing technology, equipment and professional production team provide a solid backing quality assurance for product innovation, development and production.
Certifications
The factory has obtained ISO9001 certification and Alibaba SGS certification, and has more than a dozen patent certificates. It is a famous brand enterprise in China.
Customer Photos
Our company team participates in more than 10 exhibitions at home and abroad every year, visiting and receiving customers dozens of times, and welcomes every customer's inquiry and factory inspection.
Package & Delivery
Shipping Cost:

Estimated freight per unit.





To be negotiated
| | |
| --- | --- |
| After-sales Service: | Help to Solve The Problem |
| Warranty: | 1 Years |
| Type: | Axle |
Samples:

US$ 230/Piece

1 Piece(Min.Order)

|

Order Sample

Capacity: 11T; Track: 1850mm; Brake: 311*190
Customization:

Available

|

Customized Request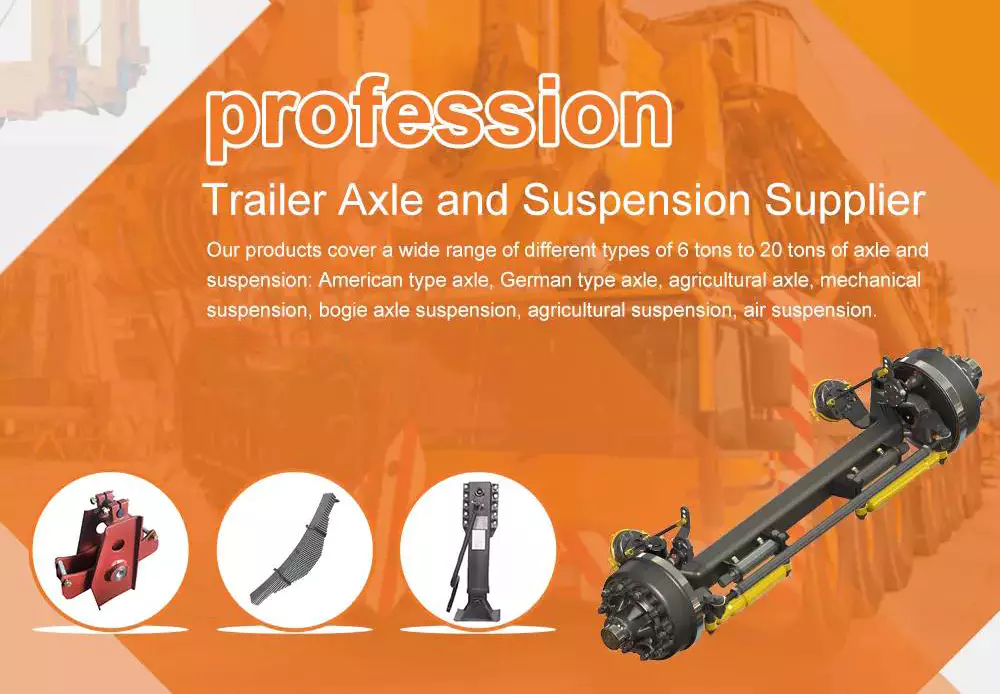 What Is an Axle?
An axle is the central shaft of a vehicle that rotates a wheel or gear. It may be fixed to the wheels or to the vehicle itself, and can rotate with the wheels and gears. It may include bearings and mounting points. If the axle is fixed to the vehicle, it may have a steering or drive shaft attached.
Rear axle
The rear axle is a crucial part of your vehicle. If it fails to function correctly, it can cause major issues when driving at high speeds. This assembly can be a complicated component, and it is crucial that you find a mechanic who knows how to fix it. Rear axles require periodic gear oil replacement and bearing adjustments.
The rear axle is the final leg of the drivetrain, transferring rotational power from the driveshaft to the rear wheels. While the design of the rear axle varies between vehicles, all axles are designed to follow similar principles. Rear axles may have a single drive shaft or two. The drive shafts are mounted at either end of the axle.
The rear axle ratio is important because it affects how much fuel the truck uses. The lower the ratio, the more fuel-efficient the vehicle is. Higher numbers, like 4:10, are better for towing, but they will decrease fuel economy. When choosing a rear axle ratio, be sure to consider how much weight you'll be hauling.
The rear axle is the most complicated part of the vehicle. It has many components and may not be easily visible. However, a properly functioning rear axle is essential for maximizing safety and performance. If you have a problem, you should contact a professional for a quick and easy fix. Even minor issues can make a significant difference in how your car or truck functions. A professional will ensure that your vehicle's rear axle will be up to OEM standards.
Semi-floating axle
A semi-floating axle is the next step up from a stub axle. Semi-floating axles have a bearing that supports the shaft, which then floats inside the axle casing. These axles are best suited for midsize trucks. They are also lighter than full-floating axles and can be manufactured at a lower cost.
This design is most commonly found on rear-wheel-drive passenger cars and lighter trucks. The semi-floating design also allows for a wider diameter axle shaft, and it can increase axle capacity by increasing the diameter of the axle shaft. It also has a wider offset to accommodate larger tires. It can accommodate any offset, although this is usually only useful in off-road environments.
Semi-floating axles are often made with a tapered end. This helps keep the axel from twisting while providing traction. The rear hub of a semi-floating axle is usually connected to the axel via a big, strong nut. This nut also provides friction on the axel shaft.
A full-floating axle is common in 3/4-ton and 1/2-ton trucks. It is important to note, however, that almost all factory full-floating rear ends use eight-lug wheels. However, this rule is not strictly enforced and some companies, like Czpt, specialize in semi-floating axles and custom axles.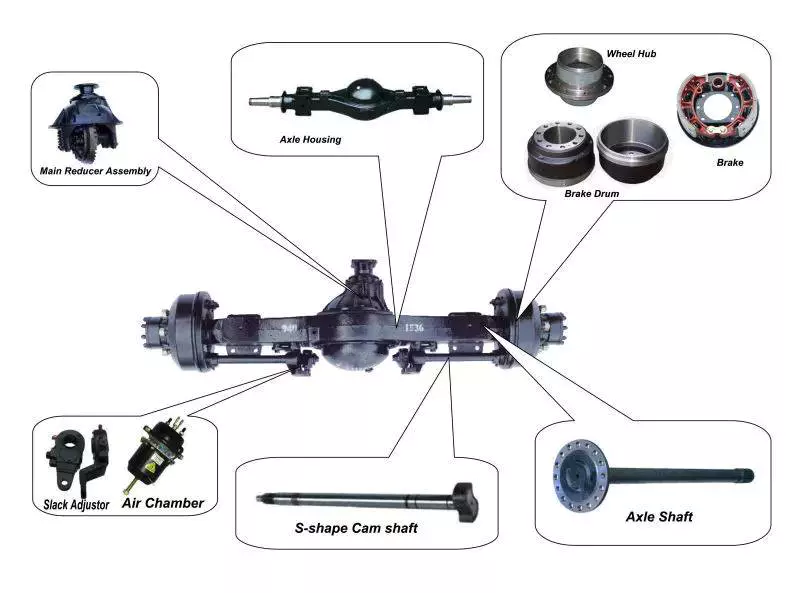 Drive shaft
A drive shaft is an important part of your vehicle's drivetrain, which helps to transfer torque from the transmission to the drive wheels. You'll need to know how it functions in order to properly maintain your car. Fortunately, there are a variety of different parts you can use to upgrade your drive shaft.
In order to improve the performance of your vehicle's drivetrain, you can replace your existing drive shaft with an upgraded one. These are available in various lengths, so that you can find the right length and fit for your vehicle. Some shafts can even be customized to fit the exact length of your axle.
Generally, short axle shafts are made of solid steel. The longer ones are made of aluminum or carbon fiber. To ensure a smooth and safe ride, they are dynamically balanced to eliminate vibrations. Some models are fitted with giubo joints and universal joints to absorb shock. You can also add flex discs to improve your suspension and dampen the bucking sensation of a drive shaft.
You can tell if your drive shaft needs replacement if you hear a clicking noise while driving. This noise is often audible when the vehicle is turning sharply. You should take your vehicle to a mechanic as soon as you hear this noise, or it could lead to a costly repair. In addition to a clicking noise, your car may also be exhibiting a shuddering or vibrating sensation. If you're experiencing any of these symptoms, you should take your car in for a checkup by an ASE certified technician. If you ignore these warnings, your car's drive shaft could separate, causing you a lot of damage.
The drive shaft is attached to the axle flange by a drive shaft bolt. This is an important part of the drivetrain because it's the only point where the drive shaft will connect to the axle. If the bolt is too long, it could be vulnerable to damage if the washers don't fit tightly. The drive shaft socket yoke can also be easily damaged when you loosen the bolt.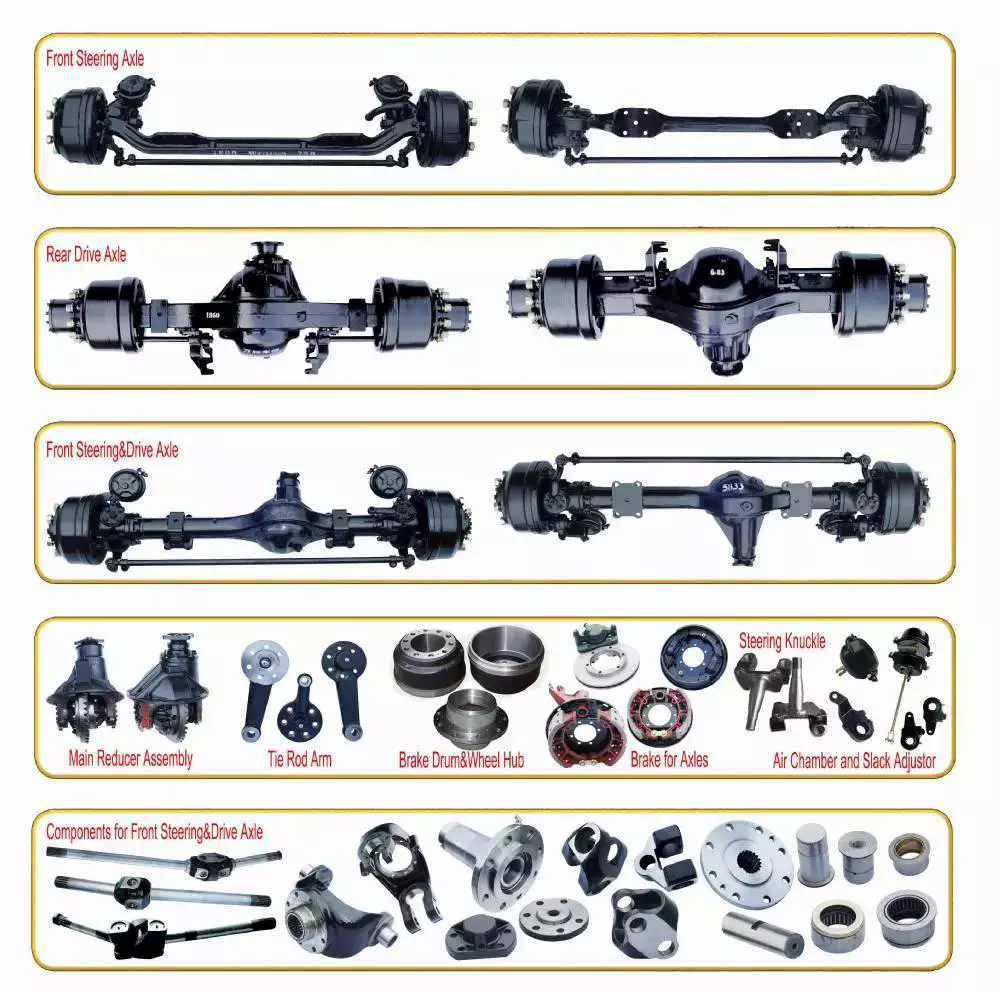 U-joint
When you replace a u-joint on an axle, you need to take a few things into consideration. One of these considerations is the type of grease you're going to use. Some of these greases are better than others, and you should always check for a quality grease before you install a new one. A good grease can help to reduce the friction and improve the temperature resistance of the part.
It's also important to check the u-joint itself. This is the joint between the axle shaft and the wheel. If it's not functioning properly, it could cause further problems. You should inspect the u-joint every time you change the oil in your vehicle. You can test its lubrication by pressing on the tire with a pry bar or axle stands. You can also try turning the steering wheel fully to test if the joint is loose.
A u-joint failure can leave your car inoperable, which can make driving a risky proposition. If the drive shaft loosens and falls to the ground, you could lose control of your car and risk being stranded. In some severe cases, the front of the driveshaft can even drop to the ground and lift the rear of the car, pushing the car sideways. It's vital to check u-joints regularly, as failure of the u-joint can cause costly and frustrating car repairs.
When you notice a bad universal joint, you should consider getting it replaced immediately. The most common symptom of a bad u-joint is a clunking sound during acceleration and deceleration. You may also hear vibrations when the u-joint becomes worn and you drive the car. If you notice these symptoms, contact a qualified technician to perform a proper diagnosis.




editor by CX 2023-05-19