Product Description

Widely Used Hydraulic Clamshell Grab For Marine Crane
Discription:
Used for building the base of the foundation pit digging mining, pit mining, gravel and clay, sand, coal loading. Particularly applicable to ditch or restricted space on one side of the excavation and loading. Apply to port ship, train and car.
With double oil cylinders drive and high strength steel production. With big closing force, excellent mining properties,and high work efficiency. Hydraulic turning points according to the customers' demand, Without hydraulic rotary excavator grab use the oil cylinder or standby line, don't need to add other hydraulic valve block and line. Rotary hydraulic excavator grab need add another set of hydraulic valve and pipeline to control, oil cylinder makes the piston protective device.
Advantage Hydraulic Grab:
1. The electro hydraulic grab suitable with single hook crane.
2. Electro Hydraulic grab is powerful and efficient in load and discharge different bulk cargo
3. Compare with remote control grab, can handle material quicker
4. Electro Hydraulic clamshell grab can be open and close at any time. More convince to operation it
5. The wire drum protects electric Hydraulic clamshell grab is in from side to side when working, especially when cleaning the vessel
Techinical specifiction:
Type
Weihgt
Volume
Density
SWL
Size 
QSEH-1
(Kg)
m3
(t)
 
 
 
 
 
A
B
C
D
E
QSEH400-1
560
0.4 
0.4-1.2
5
1260
810
1100
1350
950
QSEH500-1
650
0.5 
0.4-1.2
6.25
1350
870
1200
1460
1571
QSEH630-1
770
0.63 
0.4-1.2
7.6
1450
930
1290
1570
1100
QSEH800-1
920
0.8 
0.4-1.2
9.4
1510
960
1340
1635
1250
QSEH1000-1
1070
1.0 
0.4-1.2
11.34
1620
1030
1880
1760
1360
QSEH1250-1
1240
1.25 
0.4-1.2
13.7
1740
1100
1450
1895
1450
QSEH1600-1
1500
1.6 
0.4-1.2
17.1
1890
1560
1690
2060
1580
QSEH2000-1
1740
2.0 
0.4-1.2
20.7
2030
1290
1820
2220
1700
QSEH2500-1
2571
2.5 
0.4-1.2
25.1
2180
1385
1960
2390
1830
QSEH3000-1
2170
3.0 
0.4-1.2
28.8
2315
1470
2085
2540
1940
QSEH3500-1
2260
3.5 
0.4-1.2
32.3
2430
1540
2195
2670
2040
QSEH4200-1
2380
4.2
0.4-1.2
37.1
2580
1635
2330
2840
2170
Drawing:
Photos:
Packing:
About us
QSHI supplies different kinds of products. High quality and favorable price.
We're pleased to get your Inquiry and we will feedback ASAP.
We stick to the principle "Quality First, Service First, Continuous Improvement and Customer Satisfaction" and aim at "Zero Defect Zero Complaint".
To perfect our service, we provide products with good quality at reasonable price.
Our Service
Being a good adviser and assistant of client, we can help them to get rich and generous returns on their investment.
1.Pre-sale services: 
a: Design customized project for clients.
b: Design and manufacture products according to clients special requirement.
c: Train technical personnel for clients.
2.Services during the sale:
a: Help clients to find reasonable freight forwarders ahead of delivery.
b: Help clients to draw solving plans.
3.After-sale services:
a: Assist clients to prepare for the construction scheme.
b: Install and debug equipment.
c: Train the first-line operators.
d: Examine equipment.
e: Take initiative to eliminate the troubles immediately.
f: Provide technical exchanging.
FAQ
 ORDER INTRODUCTION:
Pls kindly send us your detailed specifications as follow if you are interested in our grabs.
1 What's the lifting material?
2 What's the cubage of the grab?
3 What's the SWL of your crane?
We will offer you the best suitable grab with best price and quality. These specifications above can make it clear about your requirements.
Thanks very much for your kindly cooperation!
Guide to Drive Shafts and U-Joints
If you're concerned about the performance of your car's driveshaft, you're not alone. Many car owners are unaware of the warning signs of a failed driveshaft, but knowing what to look for can help you avoid costly repairs. Here is a brief guide on drive shafts, U-joints and maintenance intervals. Listed below are key points to consider before replacing a vehicle driveshaft.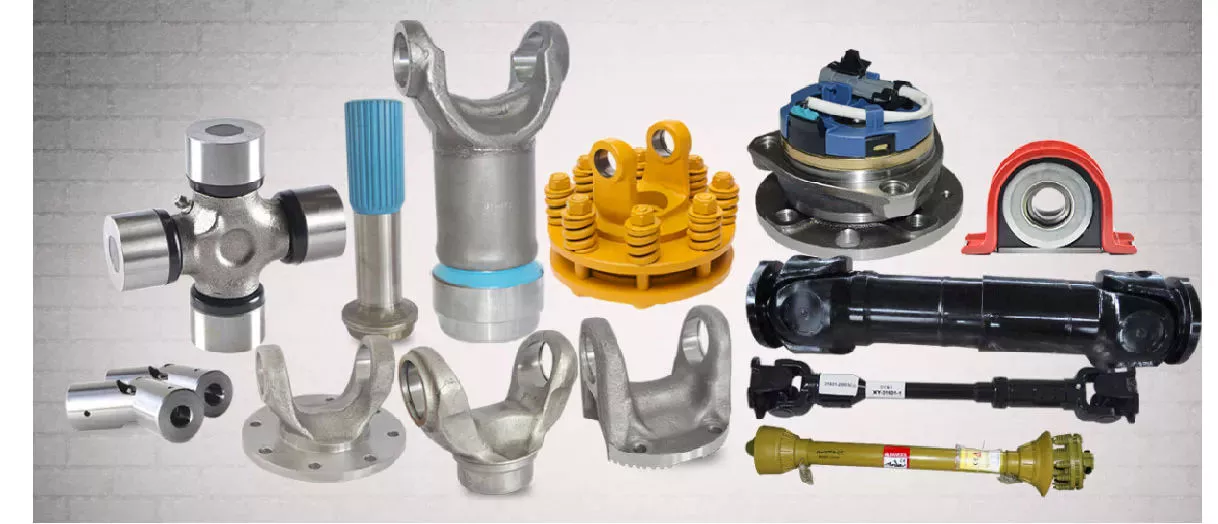 Symptoms of Driveshaft Failure
Identifying a faulty driveshaft is easy if you've ever heard a strange noise from under your car. These sounds are caused by worn U-joints and bearings supporting the drive shaft. When they fail, the drive shafts stop rotating properly, creating a clanking or squeaking sound. When this happens, you may hear noise from the side of the steering wheel or floor.
In addition to noise, a faulty driveshaft can cause your car to swerve in tight corners. It can also lead to suspended bindings that limit overall control. Therefore, you should have these symptoms checked by a mechanic as soon as you notice them. If you notice any of the symptoms above, your next step should be to tow your vehicle to a mechanic. To avoid extra trouble, make sure you've taken precautions by checking your car's oil level.
In addition to these symptoms, you should also look for any noise from the drive shaft. The first thing to look for is the squeak. This was caused by severe damage to the U-joint attached to the drive shaft. In addition to noise, you should also look for rust on the bearing cap seals. In extreme cases, your car can even shudder when accelerating.
Vibration while driving can be an early warning sign of a driveshaft failure. Vibration can be due to worn bushings, stuck sliding yokes, or even springs or bent yokes. Excessive torque can be caused by a worn center bearing or a damaged U-joint. The vehicle may make unusual noises in the chassis system.
If you notice these signs, it's time to take your car to a mechanic. You should check regularly, especially heavy vehicles. If you're not sure what's causing the noise, check your car's transmission, engine, and rear differential. If you suspect that a driveshaft needs to be replaced, a certified mechanic can replace the driveshaft in your car.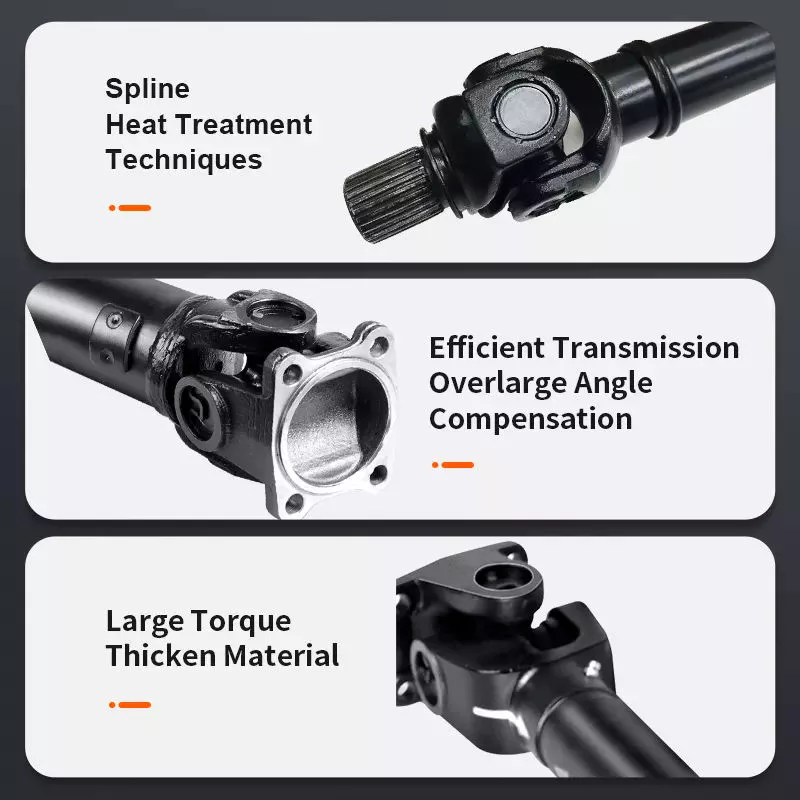 Drive shaft type
Driveshafts are used in many different types of vehicles. These include four-wheel drive, front-engine rear-wheel drive, motorcycles and boats. Each type of drive shaft has its own purpose. Below is an overview of the 3 most common types of drive shafts:
The driveshaft is a circular, elongated shaft that transmits torque from the engine to the wheels. Drive shafts often contain many joints to compensate for changes in length or angle. Some drive shafts also include connecting shafts and internal constant velocity joints. Some also include torsional dampers, spline joints, and even prismatic joints. The most important thing about the driveshaft is that it plays a vital role in transmitting torque from the engine to the wheels.
The drive shaft needs to be both light and strong to move torque. While steel is the most commonly used material for automotive driveshafts, other materials such as aluminum, composites, and carbon fiber are also commonly used. It all depends on the purpose and size of the vehicle. Precision Manufacturing is a good source for OEM products and OEM driveshafts. So when you're looking for a new driveshaft, keep these factors in mind when buying.
Cardan joints are another common drive shaft. A universal joint, also known as a U-joint, is a flexible coupling that allows 1 shaft to drive the other at an angle. This type of drive shaft allows power to be transmitted while the angle of the other shaft is constantly changing. While a gimbal is a good option, it's not a perfect solution for all applications.
CZPT, Inc. has state-of-the-art machinery to service all types of drive shafts, from small cars to race cars. They serve a variety of needs, including racing, industry and agriculture. Whether you need a new drive shaft or a simple adjustment, the staff at CZPT can meet all your needs. You'll be back on the road soon!
U-joint
If your car yoke or u-joint shows signs of wear, it's time to replace them. The easiest way to replace them is to follow the steps below. Use a large flathead screwdriver to test. If you feel any movement, the U-joint is faulty. Also, inspect the bearing caps for damage or rust. If you can't find the u-joint wrench, try checking with a flashlight.
When inspecting U-joints, make sure they are properly lubricated and lubricated. If the joint is dry or poorly lubricated, it can quickly fail and cause your car to squeak while driving. Another sign that a joint is about to fail is a sudden, excessive whine. Check your u-joints every year or so to make sure they are in proper working order.
Whether your u-joint is sealed or lubricated will depend on the make and model of your vehicle. When your vehicle is off-road, you need to install lubricable U-joints for durability and longevity. A new driveshaft or derailleur will cost more than a U-joint. Also, if you don't have a good understanding of how to replace them, you may need to do some transmission work on your vehicle.
When replacing the U-joint on the drive shaft, be sure to choose an OEM replacement whenever possible. While you can easily repair or replace the original head, if the u-joint is not lubricated, you may need to replace it. A damaged gimbal joint can cause problems with your car's transmission or other critical components. Replacing your car's U-joint early can ensure its long-term performance.
Another option is to use 2 CV joints on the drive shaft. Using multiple CV joints on the drive shaft helps you in situations where alignment is difficult or operating angles do not match. This type of driveshaft joint is more expensive and complex than a U-joint. The disadvantages of using multiple CV joints are additional length, weight, and reduced operating angle. There are many reasons to use a U-joint on a drive shaft.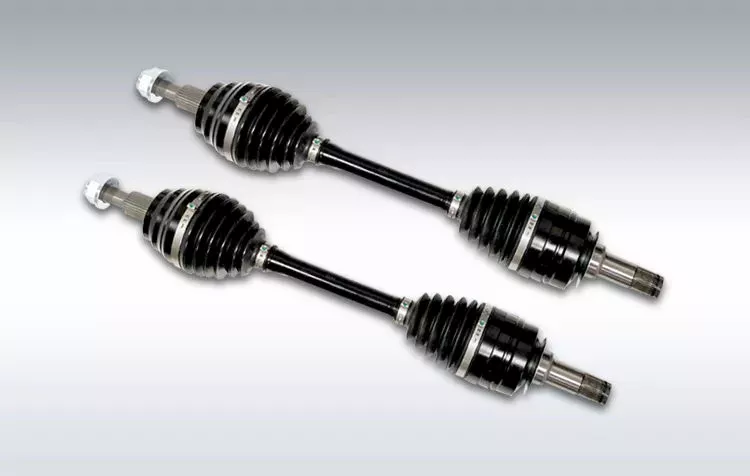 maintenance interval
Checking U-joints and slip joints is a critical part of routine maintenance. Most vehicles are equipped with lube fittings on the driveshaft slip joint, which should be checked and lubricated at every oil change. CZPT technicians are well-versed in axles and can easily identify a bad U-joint based on the sound of acceleration or shifting. If not repaired properly, the drive shaft can fall off, requiring expensive repairs.
Oil filters and oil changes are other parts of a vehicle's mechanical system. To prevent rust, the oil in these parts must be replaced. The same goes for transmission. Your vehicle's driveshaft should be inspected at least every 60,000 miles. The vehicle's transmission and clutch should also be checked for wear. Other components that should be checked include PCV valves, oil lines and connections, spark plugs, tire bearings, steering gearboxes and brakes.
If your vehicle has a manual transmission, it is best to have it serviced by CZPT's East Lexington experts. These services should be performed every 2 to 4 years or every 24,000 miles. For best results, refer to the owner's manual for recommended maintenance intervals. CZPT technicians are experienced in axles and differentials. Regular maintenance of your drivetrain will keep it in good working order.