Product Description
100% New 2571 LeapMotor C11 EV Electric Car SUV Vehicles Motors Cars Zero Leapmotor C11 Open Sunroof 360 Camera
LEAPMOTOR C11 EV
Car Body
Size
4750*1905*1675mm
Wheelbase
2920mm
Body structure
SUV
seats
5
Electromotor
Motor type
permanent magnet/synchronous
Maximum motor power
400KW
Maximum torque of motor
360N.m
battery type
Ternary lithium battery
battery capacity
90kwh
Max cruising range
610 km
Max.speed
180 km/h
Battery pack warranty
8 years/200000km
fast charge
0.6h
Charging time :
6 hours
speed changing box
The number of gear
2
Gear shift type
Single-speed transmission for electric vehicles
Chassis steering
Drive Mode
RR
Front Suspended system:
MacPhersan type Independent suspension
Rear Suspended system:
E-shape multi-link independent suspension
Power type
100% Electric
car body structure
Load-bearing car body structure
The wheel brake
Brake type
Vented Disc(front), Disc(rear)
Parking brake type
Electronic parking
tyre size
235/60 R18
Spare tire specifications
Non-Full-Size
safety equipment
Airbags
10
The seat belt is not fastened
Whole car
ISOFIX
√
EBD/CBC
√
configuration
Remote key
Electric sunroof
Touch LCD screen
LED panel 7″
Fabric seats
Adaptive Cruise Control
Carlife
Bluetooth/Car phone
Keyless start system
ISOFIX
Battery preheating
EBD/CBC
USB/AUX
All power window
Multi-functional steering wheel
AC
Aluminum alloy wheel
Window anti – pinch function
ABS
Lane Departure Warning System
Car central lock
6 pcs trumpets
Cosmetic mirror
The headlight height is adjustable
Product Description
100% New LeapMotor C11 2571 TOP EV Electric Car SUV Sports E Vehicle Motors Cars Leapmotor C11 510KM 610KM NEDC
100% New LeapMotor C11 2571 TOP EV Electric Car SUV Sports E Vehicle Motors Cars Leapmotor C11 510KM 610KM NEDC
Company Profile
UNILAND MOTORS, located in HangZhou of China, is a professional company specialized in electric cars exporting. Based on over 10 years' EV exporting experience, our models now cover such types as Sedan, SUV, Commercial Van and so on. What's more, rich stocks and stable supply chain have enabled us realize monthly at least 200 units delivery. With the rare export qualification certified by the Ministry of Commerce in China, as well as the agent of several big electric vehicle brands, we are more professional to supply customers with various EV models and high-quality after-sales service in all aspects.
Till now, UNILAND has built stable cooperation with top EV brands by virtue of the wide sales network, specially authorized by some famous brands as distributors for global trading.
Why choose Uniland?
1) Competitive price. UNILAND has established close cooperation with some EV brand manufacturers and usually take cars with the quantity of several hundreds, so we can give customers very good price.
2) Stable supply chain. Establish close cooperation with EV factories and book VW production lines to assemble cars exclusively for UNILAND to guarantee rich available cars.  
3) Continuous fast delivery. With stable supply chain, we book vessels from shipping company directly, so that we can get the best freight and promise our customers best delivery time.
4) Complete after-sales service. We have professional after-sales service team, dealing with any problems faced from customers and helping customers buy spare parts for EVs in shortest time. Their quick response helps win good reputation for UNILAND.
Warehouse show
electric car vehicle suv used automobile auto electrico luxury ev cheap price electrical mini vehicles cars motor hybrid 2571 supercar automatic electronic for adult new EV 100% New LeapMotor C11 2571 TOP EV Electric Car SUV Sports E Vehicle Motors Cars Leapmotor C11 510KM 610KM NEDC
e
EV Loading & Delivery
100% New LeapMotor C11 2571 TOP EV Electric Car SUV Sports E Vehicle Motors Cars Leapmotor C11 510KM 610KM NEDC
Arrive at port & vessel
 new car dealer used electric suv mnv self charging full size cars vehicles Electric-Car ev station or id6 vehicle auto Car electrico street legal mini van Electric Secondhand Vehicle & Stocks vw EV china id4 made in volkswagen ehicle crozz energy the electric-car pro volkswage x e prime pure accessories 2571 import New Energy Vehicles 4x elictrical nev elictric d4 Pro electrinica electrocar 
Customer's feedback
t100% New LeapMotor C11 2571 TOP EV Electric Car SUV Sports E Vehicle Motors Cars Leapmotor C11 510KM 610KM NEDC
FAQ
1. Which brand electric car could you supply?
   All electric car brands NiO, X-Peng,BYD,Tesla, Volkswagen and any brand you want.could be supplied.
2. What kind of payment terms can be acceptable?
    We're flexible for payment terms, 30% T/T deposit and 70% T/T balance before shipment.
3. What's your minimum Order quantity?
    1 unit, unsually big discount based on large quantity.
4. What's your supportive policy for distributors in overseas market?
    We support in many aspects, including marketing, promotion, product development & improvements, service training, advertising etc.
5. What is your shipping type and delivery time?
    By train or by sea. Normally delivery time 15-25 days after receiving your deposit.
100% New LeapMotor C11 2571 TOP EV Electric Car SUV Sports E Vehicle Motors Cars Leapmotor C11 510KM 610KM NEDC
Screw Shaft Types
A screw shaft is a cylindrical part that turns. Depending on its size, it is able to drive many different types of devices. The following information outlines the different types of screws, including their sizes, material, function, and applications. To help you select the right screw shaft, consider the following factors:


Size
A screw can come in a variety of shapes and sizes, ranging from a quarter to a quarter-inch in diameter. A screw is a cylindrical shaft with an inclined plane wrapped around it, and its main function is to fasten objects together by translating torque into a linear force. This article will discuss the dimensions of screws and how to determine the size of a screw. It is important to note that screw sizes can be large and small depending on the purpose.
The diameter of a screw is the diameter of its shaft, and it must match the inner diameter of its nuts and washers. Screws of a certain diameter are also called machine screws, and they can be larger or smaller. Screw diameters are measured on the shaft underneath the screw head. The American Society of Mechanical Engineers (ASME) standardized screw diameters in 3/50-inch to 16 (3/8-inch) inches, and more recently, sizes were added in U.S. fractions of an inch. While shaft and head diameters are standardized, screw length may vary from job to job.
In the case of the 2.3-mm screw group, the construct strength was not improved by the 1.2-mm group. The smaller screw size did not increase the strength of the construct. Further, ABS material did not improve the construct strength. Thus, the size of screw shaft is an important consideration in model design. And remember that the more complex your model is, the larger it will be. A screw of a given size will have a similar failure rate as a screw of a different diameter.
Although different screw sizes are widely used, the differences in screw size were not statistically significant. Although there are some limitations, screws of different sizes are generally sufficient for fixation of a metacarpal shaft fracture. However, further clinical studies are needed to compare screw sizes for fracture union rates. So, if you are unsure of what size of screw shaft you need for your case, make sure to check the metric chart and ensure you use the right one.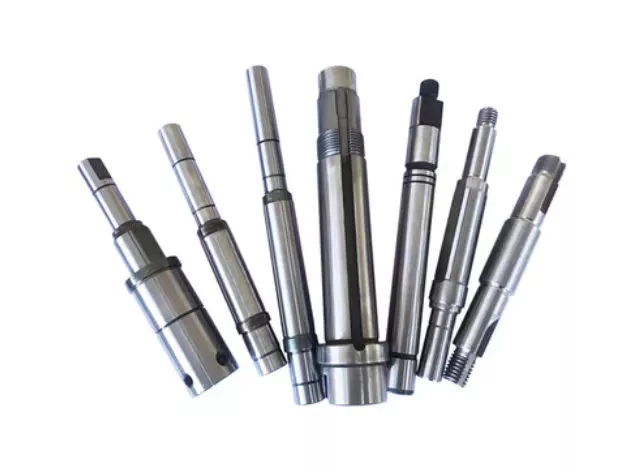 Material
The material of a screw shaft plays an important role in the overall performance of a screw. Axial and central forces act to apply torque to the screw, while external forces, such as friction, exert a bending moment. The torsional moments are reflected in the torque, and this causes the screw to rotate at a higher rate than necessary. To ensure the longevity of the screw, the material of the screw shaft should be able to handle the bending moment, while the diameter of the shaft should be small enough to avoid causing damage.
Screws are made from different metals, such as steel, brass, titanium, and bronze. Manufacturers often apply a top coating of chromium, brass, or zinc to improve corrosion resistance. Screws made of aluminum are not durable and are prone to rusting due to exposure to weather conditions. The majority of screw shafts are self-locking. They are suited for many applications, including threaded fasteners, C-clamps, and vises.
Screws that are fabricated with conical sections typically feature reduced open cross-sectional areas at the discharge point. This is a key design parameter of conical screw shafts. In fact, reductions of up to 72% are common across a variety of applications. If the screw is designed to have a hard-iron hanger bearing, it must be hardened. If the screw shaft is not hardened, it will require an additional lubricant.
Another consideration is the threads. Screw shafts are typically made of high-precision threads and ridges. These are manufactured on lathes and CNC machines. Different shapes require different materials. Materials for the screw shaft vary. There are many different sizes and shapes available, and each 1 has its own application. In addition to helical and conical screw shafts, different materials are also available. When choosing material, the best 1 depends on the application.
The life of the screw depends on its size, load, and design. In general, the material of the screw shaft, nut body, and balls and rollers determine its fatigue life. This affects the overall life of the screw. To determine whether a specific screw has a longer or shorter life, the manufacturer must consider these factors, as well as the application requirements. The material should be clean and free of imperfections. It should be smooth and free of cracks or flaking, which may result in premature failure.
Function
The function of a screw shaft is to facilitate the rotation of a screw. Screws have several thread forms, including single-start, double-start and multi-start. Each form has its own advantages and disadvantages. In this article we'll explore each of them in detail. The function of a screw shaft can vary based on its design, but the following are common types. Here are some examples of screw shaft types and their purposes.
The screw's torque enables it to lift objects. It can be used in conjunction with a bolt and nut to lift a load. Screws are also used to secure objects together. You can use them in screw presses, vises, and screw jacks. But their primary function is to hold objects together. Listed below are some of their main functions. When used to lift heavy loads, they can provide the required force to secure an object.
Screws can be classified into 2 types: square and round. Square threads are more efficient than round ones because they apply 0deg of angle to the nut. Square threads are also stronger than round threads and are often used in high-load applications. They're generally cheaper to manufacture and are more difficult to break. And unlike square threads, which have a 0deg thread angle, these threads can't be broken easily with a screwdriver.
A screw's head is made of a series of spiral-like structures that extend from a cylindrical part to a tip. This portion of the screw is called the shank and is made of the smallest area. The shank is the portion that applies more force to the object. As the shaft extends from the head, it becomes thinner and narrow, forming a pointed tip. The head is the most important part of the screw, so it needs to be strong to perform its function.
The diameter of the screw shaft is measured in millimeters. The M8 screw has a thread pitch of 1.25 mm. Generally, the size of the screw shaft is indicated by the major and minor diameter. These dimensions are appended with a multiplication sign (M8x1).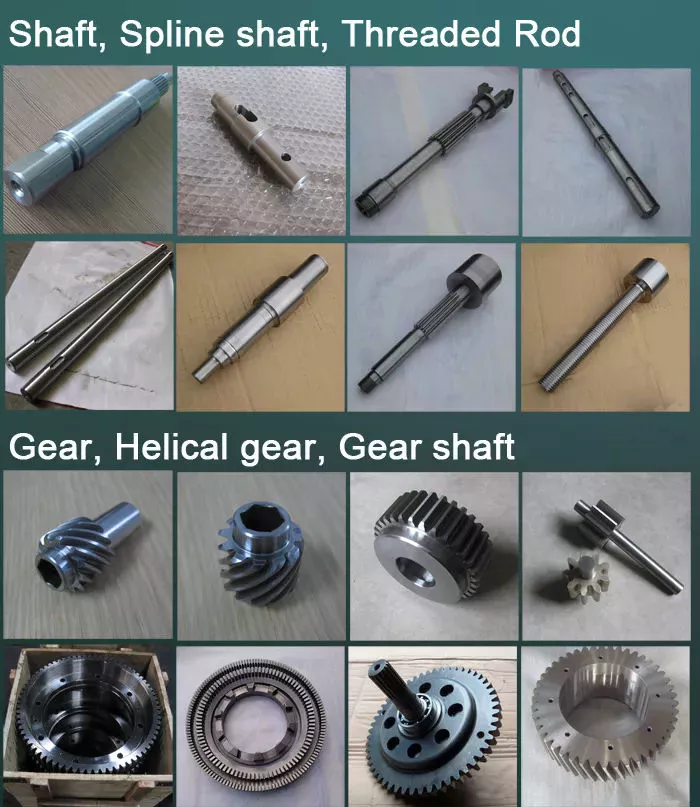 Applications
The design of screws, including their size and shape, determines their critical rotating speeds. These speeds depend on the threaded part of the screw, the helix angle, and the geometry of the contact surfaces. When applied to a screw, these limits are referred to as "permissible speed limits." These maximum speeds are meant for short periods of time and optimized running conditions. Continuous operation at these speeds can reduce the calculated life of a nut mechanism.
The main materials used to manufacture screws and screw shafts include steel, stainless steel, titanium, bronze, and brass. Screws may be coated for corrosion resistance, or they may be made of aluminium. Some materials can be threaded, including Teflon and nylon. Screw threads can even be molded into glass or porcelain. For the most part, steel and stainless steel are the most common materials for screw shafts. Depending on the purpose, a screw will be made of a material that is suitable for the application.
In addition to being used in fasteners, screw shafts are used in micrometers, drillers, conveyor belts, and helicopter blades. There are numerous applications of screw shafts, from weighing scales to measuring lengths. If you're in the market for a screw, make sure to check out these applications. You'll be happy you did! They can help you get the job done faster. So, don't delay your next project.
If you're interested in learning about screw sizing, then it's important to know the axial and moment loads that your screws will experience. By following the laws of mechanics and knowing the load you can calculate the nominal life of your screw. You can also consider the effect of misalignment, uneven loading, and shocks on your screw. These will all affect the life of your screw. Then, you can select the right screw.