Product Description
18Ton 1850MM German Type Square Beam Rear Semi Trailer Axles for Sale
Product Parameters
Axle Type

 

Max  

Capacity

(T)

L2

Track

(mm)

 Brake ( mm )

 

Bearing

Spring Seat

Installation

 

Axle

 

L4Centre Distanceof Brake Chamber

( mm)

 

JS12FA1347D

12

1840

φ420x 180

33118

33213

≥980

150

423

JS13FA1348D

13

1840

φ 420x 200

33118

33213

 

≥900

150

360

JS14FA1348D

14

1840

φ 420x 200

32219

33215

≥900

150

356

JS16FA1348D

16

1850

φ 420x 200

322222

32314

≥900

150

360

JS18FA1348D

18

1850

Φ420x 200

322222

32314

≥900

150

380
Wheel Fixing

 

Total Length ( mm )

 

Recommended

Wheel

 

Weigth(Kg)

 

Stud

 

PCD(mm)

H(mm)

10-M22x 1.5ISO

335

280.8

~ 2144

7.5v-20

360

10-M22x 1.5ISO

335

280.8

~ 2144

7.5v-20

382

10-M22x 1.5ISO

335

280.8

~ 2198

8.0v-20

406

10-M22x 1.5ISO

335

280.8

~ 2265

8.5v-20

440

10-M22x 1.5ISO

335

280.8

~ 2265

8.5v-20

443
Detailed Photos
Application
Company Profile
ZheJiang CZPT Axle Manufacturing Co., Ltd., founded in 2000, is a professional manufacturer of trailer axle assemblies, semi-trailer suspension systems and correlative fittings in China. We are located in Quanpu Industry Zone which is the largest production base of trailers in China, in Xihu (West Lake) Dis., the famous scenic spot. We are 1 of specialized enterprises in the scientific research, design, production and sale, with more than 300 skilled employees and professional designers for different areas. We adopt the domestic and international technical standards in production, accurately grasp the information of the market demand and make quick and optimal designs. In this way, our axle, suspension and other fittings have the world-class technical quality through reasonable and advanced manufacture technologies. Our advanced processing technology, first-class production line and precision CNC machining equipment from home and abroad ensure the good quality of our semi-trailer axle assemblies, suspension systems and other correlative fittings. At the same time, our annual capacity for the export of American and German semi-trailer axle assemblies has achieved 60, 000 pieces and of suspension assemblies has achieved 50, 000 sets. We obtained the ISO9001: 2000 International Quality Management System Certification in 2003 and TS16949 Certification in 2007. "First-class product quality, the meticulous and thoughtful service, and CZPT cooperation" is the philosophy that we always cherish. We not only meet the domestic market demand, but also export our products to Southeast Asia, the Middle East, Latin America and other countries, enjoying a good reputation. We always regard quality as life, and client as God. We will create a brilliant tomorrow with your sincere cooperation and support.
Certifications
Packaging & Shipping
FAQ
1. What's your advantage?
 — We are manufacturer, we own professinal technology & quality control team; excellent team for foreign trade plus a rich expertise in trading.
2.Where your export to?
— Our export to America, Netherlands, Germany, Italy, Poland, Hungary, Russia, and other European, Asia and Africa countries.
3. Can you send me samples for testing?
  — Certainly!  We'd like to provide the samples free of charge, but for the freight, pls kindly bear it.
4.Can you supply OEM ?
  — Sure, we always supply customized seveices according to customers' drawing or samples.
5. How long do you finish a new product?
  — Usually 20~35days once all information confirmed.
Remark:
    Our payment terms
— 30% by T/T in advance, 70% by T/T before shipment
| | |
| --- | --- |
| After-sales Service: | 24 Hours Online |
| Condition: | New |
| Axle Number: | 1 |
| Application: | Trailer |
| Certification: | CE, ISO |
| Material: | Iron |
Samples:

US$ 520/Piece

1 Piece(Min.Order)

|
Request Sample
Customization:

Available

|

Customized Request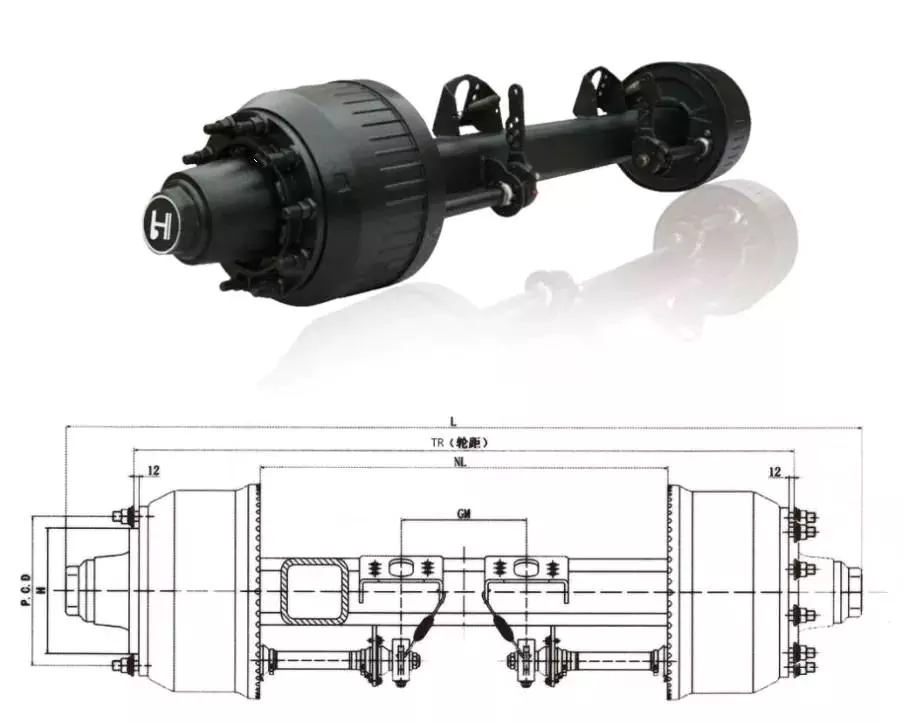 Types of Axles
An axle is the central shaft of a rotating wheel or gear. It can be fixed to the wheels or to the vehicle itself. Depending on the design, it may be fixed in different positions and have different types of mounting points. It may also have bearings. Axles come in different types and shapes. Some of them are more functional than others, and they may be semi-floating, tandem-drive, or lift axles.
Customized axles work best for cars
Adding big horsepower to a car can increase its performance, but this addition can also cause problems. It is important to take proper measurements for the rear axle to ensure it is not too long or too short. However, this measurement can become complicated with limited-slip differentials and offset pinions.
If you want to add custom axles to your car, it is important to know the physical properties of the axle and what kind of load it can handle. If you're only planning to make a minor upgrade, it may be enough to get a standard axle. However, if you're planning to make any major modifications, a customized axle will be a much better option.
Customized axles can be made of a variety of materials. They can be made of carbon steel or nickel steel. Some are made to float freely and others are made to be rigid. If you're building a car, you should also consider the type of bearings and kingpins that it will use.
Axles come in a variety of types, based on the amount of force they produce. Some are pre-defined, while others are customized to meet your car's specifications. The advantages of customizing your axles include improved wheel speed and torque. You can even adjust the angle of the axles for even more performance.
Axles can make or break your car's performance. Customized axles are made with a proprietary alloy material that increases the torsional strength. Because of this, they are able to withstand a tremendous amount of power. Additionally, they are able to withstand lateral and bending loads.
While customizing your axle is an excellent idea, it is also very expensive. The best way to go about it is to work with a professional. They are able to make the axles you need and they're usually well-made and made of quality materials. However, you should make sure you check the reviews and ratings of the manufacturer before making a purchase.
If you want to shorten the axle on your car, you should have it machined with new splines. The number of splines on an axle is important because it determines the strength of the axle. A 33-spline axle is more durable than a 28-spline axle, and a 40-spline axle is even stronger.
Semi-floating axles
Semi-floating rear axles are a common type of axle used in midsize trucks. They utilize a single wheel support bearing and use one axle shaft to transmit rotation to the wheels. A semi-floating axle is typically lubricated. Aftermarket kits are available to make the axle shaft stronger. However, these kits do not upgrade the axle differential assembly. Therefore, axles with weak differential assemblies may not benefit from conversion.
Semi-floating axles feature a "C-Clip" for holding the axle shaft in place in the axle casing. The problem with this design is that the axle shaft is exposed to more wear and tear. In addition, axle shafts with a C-Clip must be surface-hardened in the area where the axle shaft is flexed.
Semi-floating axles differ from full-floating axles in their appearance. A semi-floating axle has a hub that looks like the hub of a 3/4-ton 14-bolt Ford axle, whereas a full-floating axle's hub looks like that of a 1 ton Ford axle.
Semi-floating axles have a tapered end. This makes them more efficient in carrying weight. In addition, they have a keyed end to prevent the rear hub from slipping around. This ensures the axle remains stable even when the rear wheels are turning. It is also important to note that semi-floating axles can only carry a small amount of weight, while full-floating axles can carry a lot of weight.
Semi-floating axles are lighter than full-float axles, which makes them less expensive to manufacture. Additionally, if one axle fails, the vehicle will continue to operate normally. Aside from this, semi-floating axles also have c-clips, which are the bearings that bear the weight of the vehicle.
A semi-floating axle is also available with an optional 5-lug hub. The axle shaft transmits rotational torque from the differential to the wheel, and the hub rides on tapered roller bearings. A full-floating axle assembly is stronger than a semi-floating axle system. In addition, it is compatible with factory 5-lug hubs.
Semi-floating axles are easier to install than full-floating axles. However, if you want to convert your semi-floating axle to a full-floating axle, you can install an aftermarket kit.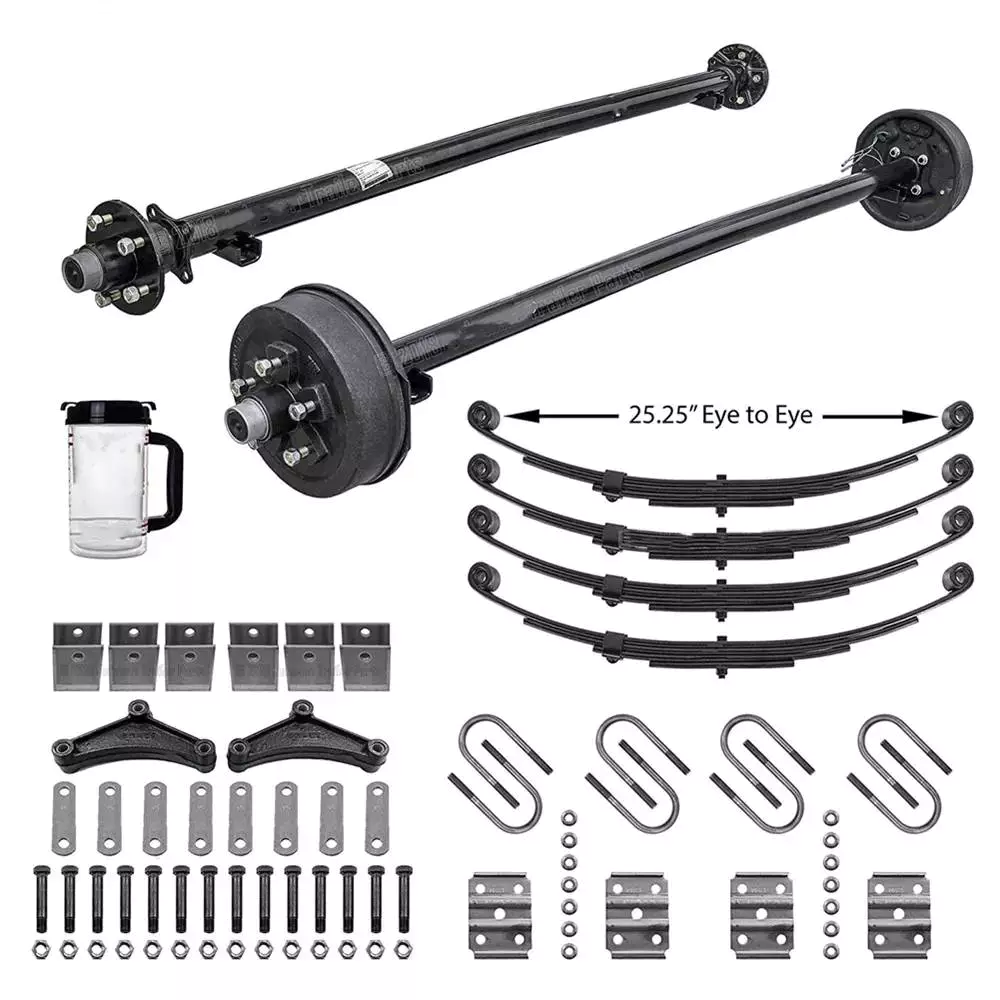 Tandem-drive axles
A tandem drive axle is a type of axle with two wheels on one side of the vehicle. Compared to a single axle with two wheels, a tandem drive axle is 60 pounds lighter and offers improved performance and durability. This type of axle is designed to optimize fleet uptime by balancing design efficiency and application-specific demands.
The suspension system of a tandem drive axle includes air springs that control the suspension of the lead and trailing axles. The air springs are pneumatically connected to a common reservoir. The springs' displacements are averaged to provide a controlling input to the air spring pressurization controller.
A tandem drive axle may be used to transport heavier loads. It is important to note that the maximum weight of a tandem drive axle may be different in different states. In general, the federal regulations allow up to 34K pounds per axle, but the state regulations may be different. However, the weight limits of tandem axle groups are significantly lower than for single axles.
A tandem drive axle is a common type of vehicle drive axle. It is characterized by two axles spaced more than 40 inches apart. The distances are measured from the axle centers. A tandem-drive axle may be a drive axle or a steer axle. If the steer axle is overloaded, steering will be more difficult.
A tandem drive axle is a popular choice for commercial trucks. It is durable and can handle heavy loads. It is often used in cement mixing trucks and tanker trucks, where the weight of the load is distributed evenly between the two axles. The combination of the two axles helps a tandem drive truck make a smoother start from a stopped position. Because the weight is distributed across two axles, the torque generated by the engine can be distributed more effectively.
A tandem drive axle is usually paired with two air-lift axles. A tandem drive axle is also used when the weight of a cargo truck cannot be supported by the two air-lift axles. Tandem-drive axles are typically installed at the rear of a truck's chassis.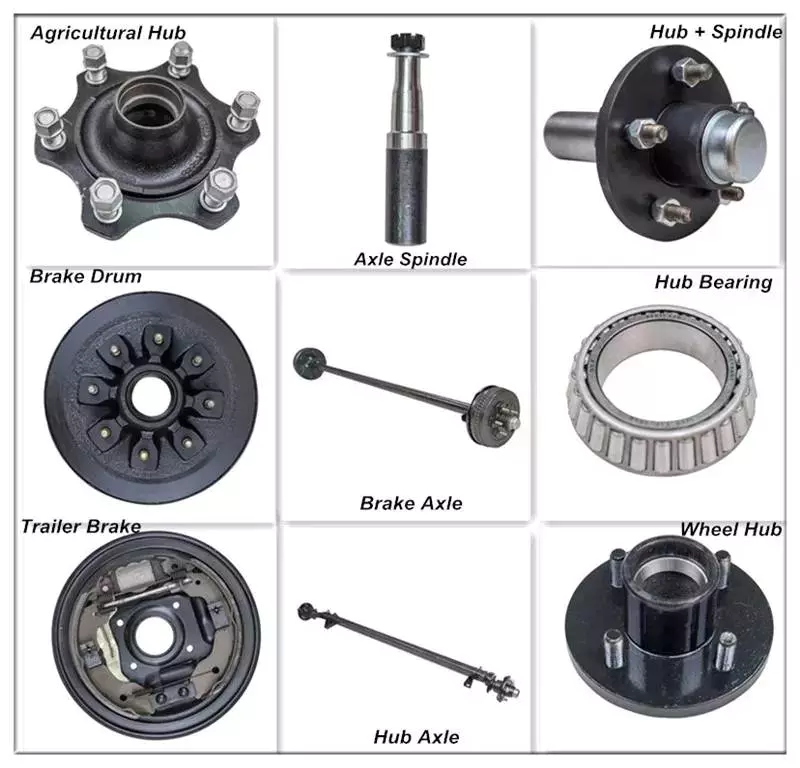 Lift axles
Lift axles are a great way to reduce the workload on your powertrain, while also improving your fuel economy. These axles reduce rolling resistance, thrust, and tandem scrub, and can improve fuel economy by two to five percent. However, you should use lift axles with care, and pay special attention to suspension spacing.
Some lift axles have a steering feature, which allows the driver to control when the axle is raised, which is useful for taking sharp corners. However, some drawbacks to non-steerable lift axles include excessive tire wear. Steerable lift axles can alleviate this problem, but they are generally more expensive.
Another benefit of lift axles is that they increase a vehicle's weight carrying capacity. This is useful for trucks with large load capacities. Although state laws vary, federal regulations are generally in favor of spreading the weight of a truck's cargo across several axles. This helps protect large road pavements and bridges.
Lift axles are an important feature of dump trucks and should be considered if you're considering making a change. However, they can be costly, and it's important to consider the costs and benefits before deciding on a new configuration. These axles are best used when the load capacity of a truck is more than double what it is capable of carrying.
The developed algorithm has been tested under various scenarios. First, the algorithm accepts the command from the driver to lift axles. However, it ignores the tag axle dropping command if the vehicle is traveling more than 30 kph. Second, the vehicle stops for about 60 seconds. Once loaded, the algorithm drops the axles in order.
Besides enhancing the weight carrying capacity of a truck, lift axles are also used for auxiliary purposes. Most of these axles are used on dump trucks. In addition to the pusher axle, some dump trucks have a tag axle, which increases the distance between the steer axle and rearmost axle. This allows the truck to carry more cargo than the pusher axle.




editor by CX 2023-06-01
Product Description
Products Details
                                                           Hot Sale Low-bed Axle 11.5 T For Semi Trailer 
1. There are 2 kinds of axles, one-piece axle tube and welded tube, solid axle head, long service life.
2. High-qualitynon-asbestos environmental protection friction plate, good performance, easy to replace.
3. Bearings are high-frequency hardened,with large bearing capacity, high speed and safe use.
4. The tire bolts are made of alloy steel with high strength. Equipped with 2 positioning sleeves.
1. Provide customized services.

 

2. It can be equipped with ABS brake.

 
Accessories
Model

Capacity
(T)

Track(mm)

Axle Tube
(mm)

Brake Size

PCD
(mm)

Total Length
(mm)

Recommended Wheel

LH-11

11.5

1850

○127

311*190

225

2166

6.5
It adopts high-quality accessories from major brands at home and abroad, and global standard American axle specifications. It has strong practicability, low price and convenient maintenance.
Axle
The factory produces its own shaft tube with quality assurance and cost advantage. The assembly process strictly abides by international quality standards to create high-quality products.
Our Company
ZheJiang Xihu (West Lake) Dis.ng Machinery Manufacturing Co., Ltd. is a professional supplier of semi-trailers and trailer parts, committed to improving quality and insisting on the principle of "innovation, quality, professionalism and mutual benefit" to achieve the goal of satisfying customers. Strong technical force, superb manufacturing technology, equipment and professional production team provide a solid backing quality assurance for product innovation, development and production.
Certifications
The factory has obtained ISO9001 certification and Alibaba SGS certification, and has more than a dozen patent certificates. It is a famous brand enterprise in China.
Customer Photos
Our company team participates in more than 10 exhibitions at home and abroad every year, visiting and receiving customers dozens of times, and welcomes every customer's inquiry and factory inspection.
Package & Delivery
Shipping Cost:

Estimated freight per unit.





To be negotiated
| | |
| --- | --- |
| After-sales Service: | Help to Solve The Problem |
| Warranty: | 1 Years |
| Type: | Axle |
Samples:

US$ 230/Piece

1 Piece(Min.Order)

|

Order Sample

Capacity: 11T; Track: 1850mm; Brake: 311*190
Customization:

Available

|

Customized Request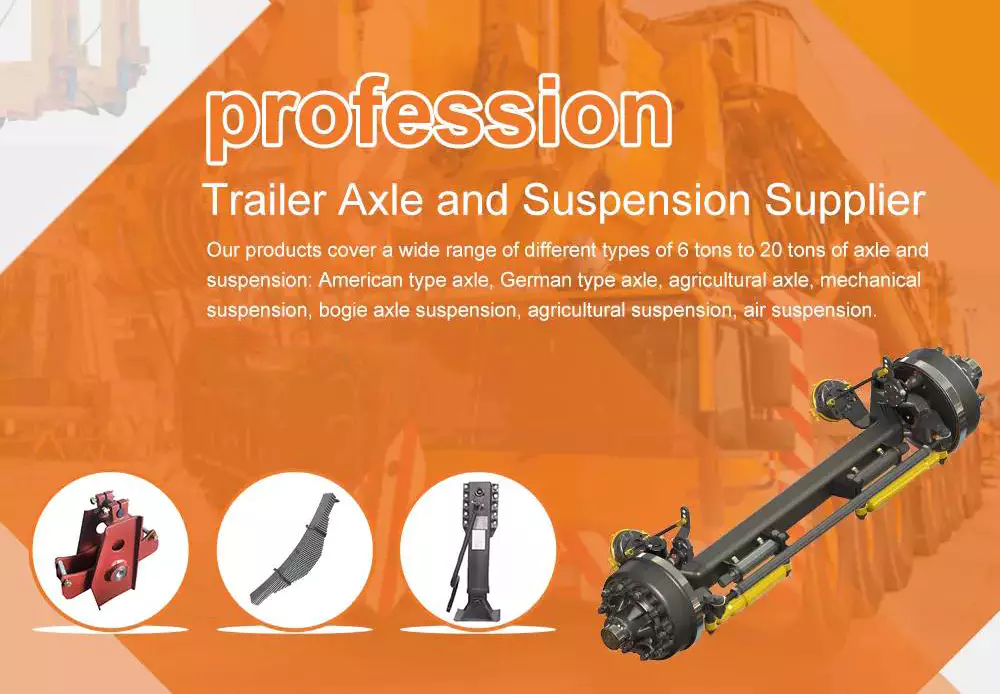 What Is an Axle?
An axle is the central shaft of a vehicle that rotates a wheel or gear. It may be fixed to the wheels or to the vehicle itself, and can rotate with the wheels and gears. It may include bearings and mounting points. If the axle is fixed to the vehicle, it may have a steering or drive shaft attached.
Rear axle
The rear axle is a crucial part of your vehicle. If it fails to function correctly, it can cause major issues when driving at high speeds. This assembly can be a complicated component, and it is crucial that you find a mechanic who knows how to fix it. Rear axles require periodic gear oil replacement and bearing adjustments.
The rear axle is the final leg of the drivetrain, transferring rotational power from the driveshaft to the rear wheels. While the design of the rear axle varies between vehicles, all axles are designed to follow similar principles. Rear axles may have a single drive shaft or two. The drive shafts are mounted at either end of the axle.
The rear axle ratio is important because it affects how much fuel the truck uses. The lower the ratio, the more fuel-efficient the vehicle is. Higher numbers, like 4:10, are better for towing, but they will decrease fuel economy. When choosing a rear axle ratio, be sure to consider how much weight you'll be hauling.
The rear axle is the most complicated part of the vehicle. It has many components and may not be easily visible. However, a properly functioning rear axle is essential for maximizing safety and performance. If you have a problem, you should contact a professional for a quick and easy fix. Even minor issues can make a significant difference in how your car or truck functions. A professional will ensure that your vehicle's rear axle will be up to OEM standards.
Semi-floating axle
A semi-floating axle is the next step up from a stub axle. Semi-floating axles have a bearing that supports the shaft, which then floats inside the axle casing. These axles are best suited for midsize trucks. They are also lighter than full-floating axles and can be manufactured at a lower cost.
This design is most commonly found on rear-wheel-drive passenger cars and lighter trucks. The semi-floating design also allows for a wider diameter axle shaft, and it can increase axle capacity by increasing the diameter of the axle shaft. It also has a wider offset to accommodate larger tires. It can accommodate any offset, although this is usually only useful in off-road environments.
Semi-floating axles are often made with a tapered end. This helps keep the axel from twisting while providing traction. The rear hub of a semi-floating axle is usually connected to the axel via a big, strong nut. This nut also provides friction on the axel shaft.
A full-floating axle is common in 3/4-ton and 1/2-ton trucks. It is important to note, however, that almost all factory full-floating rear ends use eight-lug wheels. However, this rule is not strictly enforced and some companies, like Czpt, specialize in semi-floating axles and custom axles.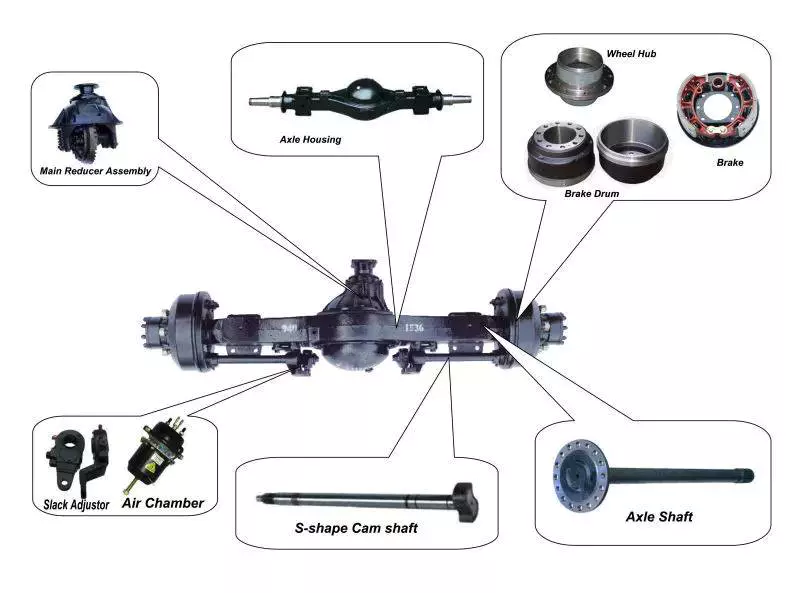 Drive shaft
A drive shaft is an important part of your vehicle's drivetrain, which helps to transfer torque from the transmission to the drive wheels. You'll need to know how it functions in order to properly maintain your car. Fortunately, there are a variety of different parts you can use to upgrade your drive shaft.
In order to improve the performance of your vehicle's drivetrain, you can replace your existing drive shaft with an upgraded one. These are available in various lengths, so that you can find the right length and fit for your vehicle. Some shafts can even be customized to fit the exact length of your axle.
Generally, short axle shafts are made of solid steel. The longer ones are made of aluminum or carbon fiber. To ensure a smooth and safe ride, they are dynamically balanced to eliminate vibrations. Some models are fitted with giubo joints and universal joints to absorb shock. You can also add flex discs to improve your suspension and dampen the bucking sensation of a drive shaft.
You can tell if your drive shaft needs replacement if you hear a clicking noise while driving. This noise is often audible when the vehicle is turning sharply. You should take your vehicle to a mechanic as soon as you hear this noise, or it could lead to a costly repair. In addition to a clicking noise, your car may also be exhibiting a shuddering or vibrating sensation. If you're experiencing any of these symptoms, you should take your car in for a checkup by an ASE certified technician. If you ignore these warnings, your car's drive shaft could separate, causing you a lot of damage.
The drive shaft is attached to the axle flange by a drive shaft bolt. This is an important part of the drivetrain because it's the only point where the drive shaft will connect to the axle. If the bolt is too long, it could be vulnerable to damage if the washers don't fit tightly. The drive shaft socket yoke can also be easily damaged when you loosen the bolt.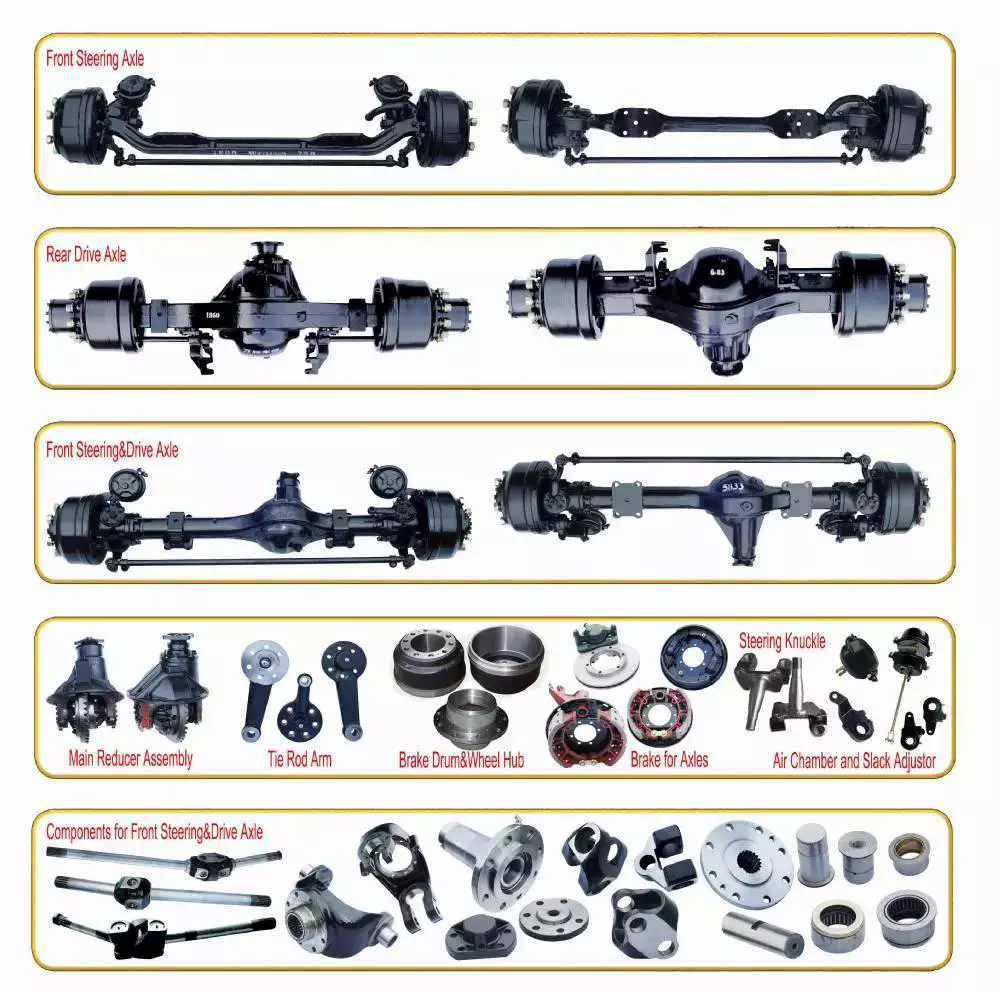 U-joint
When you replace a u-joint on an axle, you need to take a few things into consideration. One of these considerations is the type of grease you're going to use. Some of these greases are better than others, and you should always check for a quality grease before you install a new one. A good grease can help to reduce the friction and improve the temperature resistance of the part.
It's also important to check the u-joint itself. This is the joint between the axle shaft and the wheel. If it's not functioning properly, it could cause further problems. You should inspect the u-joint every time you change the oil in your vehicle. You can test its lubrication by pressing on the tire with a pry bar or axle stands. You can also try turning the steering wheel fully to test if the joint is loose.
A u-joint failure can leave your car inoperable, which can make driving a risky proposition. If the drive shaft loosens and falls to the ground, you could lose control of your car and risk being stranded. In some severe cases, the front of the driveshaft can even drop to the ground and lift the rear of the car, pushing the car sideways. It's vital to check u-joints regularly, as failure of the u-joint can cause costly and frustrating car repairs.
When you notice a bad universal joint, you should consider getting it replaced immediately. The most common symptom of a bad u-joint is a clunking sound during acceleration and deceleration. You may also hear vibrations when the u-joint becomes worn and you drive the car. If you notice these symptoms, contact a qualified technician to perform a proper diagnosis.




editor by CX 2023-05-19
Merchandise Description
Bicycle Elements Entrance and Rear Wheel Axles from china factory 
| | |
| --- | --- |
| Item | Bicycle axle |
| Content | Steel |
| Complete | ED/CP/UCP |
| Application | Kids bicycle, road bike, electrical bicycle, mountain bicycle |
| Measurement | 12" to 28" |
| Certification | CE certificate |
| MOQ | three hundred sets |
| Packing | 50SETS/CTN |
| Delivery Time | 30 times |
| Payment Phrases | L/C, T/T |
PACKING
FAQ
one. What is your phrases of packing?
A: Usually, we pack our merchandise in neutral white boxes or brown cartons. If you require to customize, we can customize it for you
2.What is your payment terms?
A:T/T 30% as deposit, and 70% prior to shipping. We'll display you the pictures of the items and packages
just before you shell out the balance.
three. What is your conditions of shipping and delivery?
A: EXW, FOB, CFR, CIF.
4. How about your shipping time?
A: Usually, it will consider thirty to 60 days after receiving your progress payment. The distinct shipping and delivery time is dependent
on the things and the amount of your get.
5.Can you produce in accordance to the samples? 
A: Yes, we can create by your samples or specialized drawings. We can develop the molds and fixtures.
six. What is your sample policy? 
A: We can supply the sample if we have ready elements in stock, but the customers have to pay out the sample cost and the courier price. 
seven.When can i get the price tag?
We generally estimate in 24 hours following obtaining your comprehensive needs, like dimension, amount and so on. If it is an urgent order, you can phone us immediately.
 



/ Piece




|

500 Pieces



(Min. Order)

###
| | |
| --- | --- |
| Condition: | New |
| Certification: | CE, ISO9001 |
| Customized: | Customized |
| Application: | Road Bike |
| Material: | Steel |
| Product Name: | Bicycle Front and Rear Wheel Axles |
###
###
| | |
| --- | --- |
| Item | Bicycle axle |
| Material | Steel |
| Finish | ED/CP/UCP |
| Application | Kids bike, road bike, electric bike, mountain bike |
| Size | 12" to 28" |
| Certificate | CE certificate |
| MOQ | 300 sets |
| Packing | 50SETS/CTN |
| Delivery Time | 30 days |
| Payment Terms | L/C, T/T |



/ Piece




|

500 Pieces



(Min. Order)

###
| | |
| --- | --- |
| Condition: | New |
| Certification: | CE, ISO9001 |
| Customized: | Customized |
| Application: | Road Bike |
| Material: | Steel |
| Product Name: | Bicycle Front and Rear Wheel Axles |
###
###
| | |
| --- | --- |
| Item | Bicycle axle |
| Material | Steel |
| Finish | ED/CP/UCP |
| Application | Kids bike, road bike, electric bike, mountain bike |
| Size | 12" to 28" |
| Certificate | CE certificate |
| MOQ | 300 sets |
| Packing | 50SETS/CTN |
| Delivery Time | 30 days |
| Payment Terms | L/C, T/T |
What Is an Axle?
An axle is the central shaft of a rotating wheel or gear. It can be fixed to the wheels and vehicle or may rotate freely. In many cases, the axle also includes a bearing. It is a critical part of your vehicle because it is responsible for the steering and acceleration of your vehicle. Several different types of axles are available.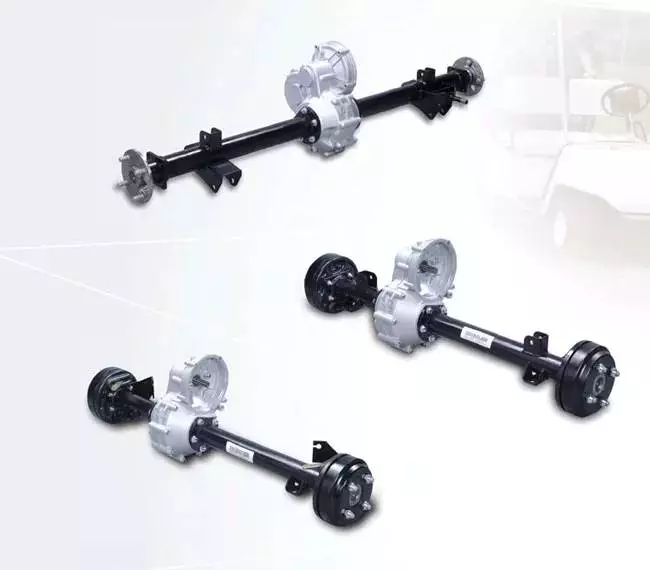 Types of axles
Axles are used in various kinds of vehicles. Each type of axle carries a different load. The first kind is called the floating axle, while the second type is called the fixed axle. Both types are commonly used in light-duty vehicles and medium-duty trucks. In addition, there are different types of semi-floating axles. These axles are mainly used in trucks, light-duty pickups, and big SUVs.
A live axle transmits power from an engine to the wheels, while a dead axle does not convey power. A dead axle is also known as a lazy axle. A number of vehicles are fitted with dead axles. These axles are usually installed in front of the driving axle. However, a pusher axle is also a dead axle.
Besides being important for vehicle movement, axles are also important for suspension. These parts transfer the driving torque from the driveshaft to the wheels, which maintains the position of the wheels. They are made of durable steel, and are very hard to bend except in cases of severe impact. There are different types of axles based on their purpose: driving axles transfer engine torque to the wheels and dead axles serve as suspension components.
Floating axles have two deep groove ball bearings at each end, and are often called full floating axles. They are usually mounted in SUVs, and are more durable than regular car axles. They are also relatively inexpensive, and can support large loads. The full floating axle is usually used in heavy-duty trucks, midsize trucks, and four-wheel-drive vehicles.
Another type of axle is called a lift axle. These axles are used in Multi-Axle Vehicles, which have more than four axles. As a result, the vehicle has a greater weight capacity than a normal car. A five-axle truck has a gross vehicle weight of forty-two tons, while its kerb weight is twelve tons. Unloaded, it is therefore equal to 30 tons.
Front axles: The front axles of cars are primarily responsible for steering and processing road shocks. The front axle is made of steel that is 0.4-3% carbon steel and one-to-three percent nickel steel. Its circular or elliptical ends and I-section center help it withstand bending loads during braking. The rear axles are the drive shafts and transmit power from the differential to the rear wheels.
Rear axles are inexpensive. They connect the rear differential and can be purchased for about $150, depending on the make and model of the car. They can be found in many modern vehicles, and are commonly found in front-drive vehicles. These modern vehicles also have axle CV shafts, which are more unique than traditional axles.
In addition to tyres, the axles are responsible for transferring power from the engine to the wheels. An axle can break due to improper maintenance or a car accident, and can affect the performance of a vehicle. A damaged axle will cause it to transfer power slowly. It might also make a clunking or sputtering noise.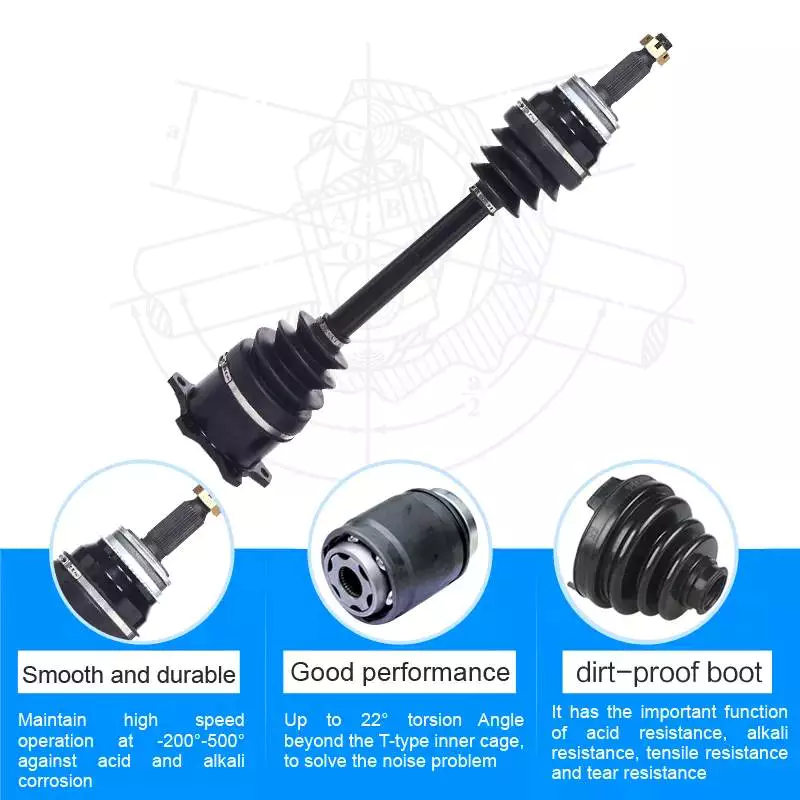 Cost of replacing an axle
Replacing an axle can be a costly task. A car's axles should last between 35k and 100k miles. However, they can be damaged by hard hits or collisions. Depending on the extent of damage, the car may require a new axle or repair. The cost of an axle repair or replacement depends on several factors, including where the car was hit, the type of car and labor charges.
The cost of replacing an axle can range from around $200 to $900, depending on your vehicle and the type of work involved. Parts can be purchased for under $100 each, but you'll also need to factor in labor, which can cost up to $200 or more. If you're replacing both the rear and front axles, the cost will be higher than for just one axle replacement.
Axle repair is a complicated procedure, and the cost varies based on the make and model of your vehicle. A replacement axle will allow wheels to rotate freely. Depending on the severity of the problem, a front axle repair can run between $500 and $800. A rear axle repair will run you about $700.
Although an axle replacement may seem like an expensive and time-consuming task, the process will be less expensive than repairing the whole assembly. Professional mechanics can also replace one axle at a time. If you have a warranty on your car, this can cover the cost of the repair. This is a good way to save money and time while getting your car back on the road.
One of the most common causes of axle failure is the leakage of grease. When grease leaks, the CV joint is left dry, and dirt will get in. Without lubrication, this leads to increased wear, and increases the cost of axle replacement. For this reason, most mechanics will recommend replacing the entire half-shaft instead of just the axle, thereby reducing the cost and the labor time.
Depending on the severity of the damage, replacing an axle can take several hours. Aside from the repair, an alignment may be needed afterward. Most garages include this service with axle work. Depending on the type of alignment, it could cost from $20 to $150+. A complete diagnosis of the vehicle can take up to three hours to complete.
In some cases, a broken axle is completely irreparable. It will damage the rest of the vehicle and may lead to other problems. In such cases, it's best to take it to a mechanic for repair as soon as possible. In most cases, an axle replacement should be needed just once during the life of the car.
Axles are available in pairs or individually. You can also find them at a junkyard. Installing a new axle is not difficult if you have the proper tools. An impact wrench can help make the job go faster. However, it's important to have a flat surface for the work and wear safety gear.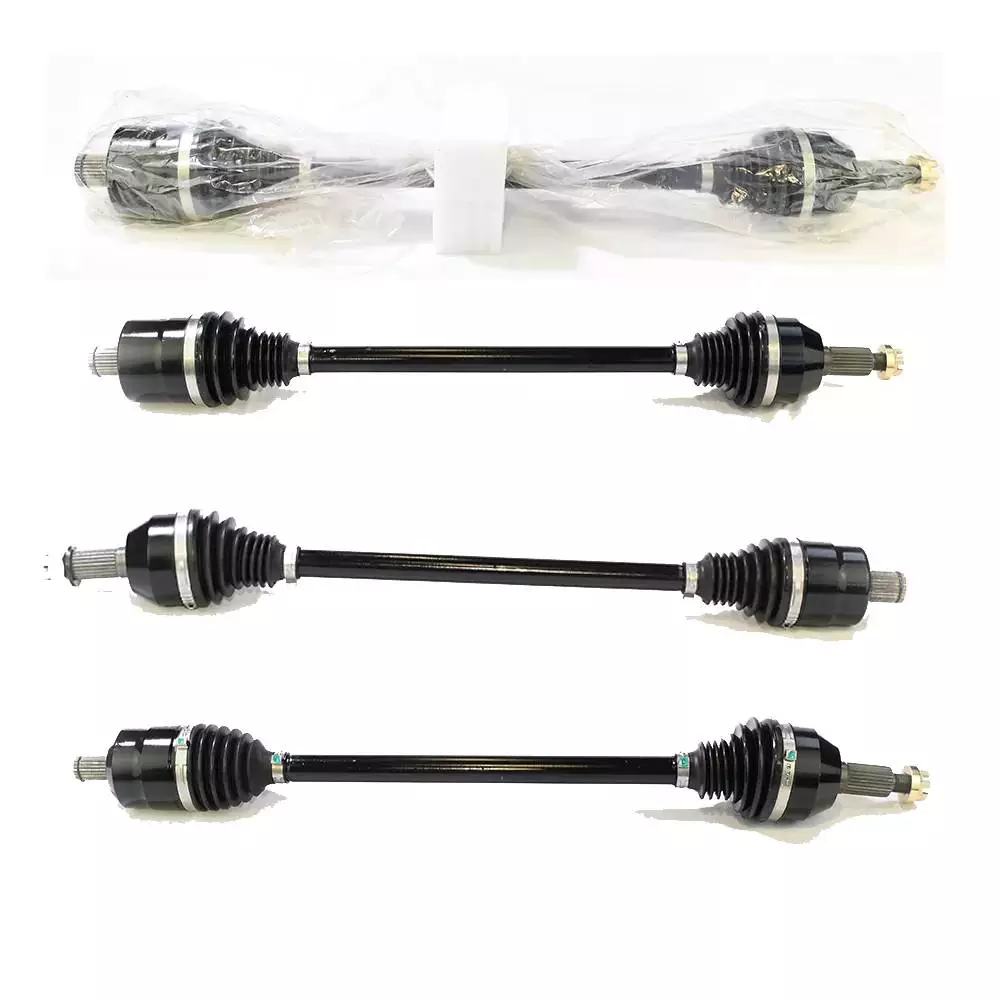 Insurance coverage for repairing an axle
Car insurance may cover the costs of repairing an axle if it's damaged in an accident, but if the damage occurred because of normal wear and tear, it may not be covered. Similarly, your insurance policy may not cover damage to tires or rims, and it might not cover the costs of a new axle, depending on the condition of the axle.
Your car's axle is an important part of the vehicle, transferring power from the engine to the wheels. They are built to be durable, but they can bend or break due to a variety of factors, including running over a curb, hitting potholes at high speed, and auto collisions. In such cases, your car may not be able to drive, and a replacement axle may be expensive.
Some of the symptoms of an axle problem are shuddering or clicking sounds when shifting gears. Occasionally, a car may even completely stop. This can lead to an accident or even a loss of control. It's best to fix an axle before it damages your car in an accident. In some cases, repairing the axle can cost only a few hundred dollars.
You should have your vehicle inspected for signs of wear and tear before repairing an axle. It's crucial to take your vehicle to a mechanic immediately after an accident, as delayed repairs can lead to further suspension issues. Ideally, your vehicle's axle should last four to five years or fifty thousand miles, although these numbers can vary. The life of an axle depends on a variety of factors, including the type of driving you do and how often you drive. Driving over rocky or icy surfaces can wear out the protective rubber boot. The rubber can also dry out and crack over time.
While the axle itself is a sturdy component, the parts connected to it are more susceptible to wear and tear. Associated components such as axle bearings are critical to the axle, as they help control the speed of the wheels when they turn. They also help maintain the integrity of the vehicle's structural system.
Repairing an axle can be expensive, depending on the vehicle's make and model. Depending on the severity of the problem, the costs of an axle repair can range from $500 to more than $1,000. The cost of an axle repair may also include other necessary repairs. If the damage is caused by normal use, your insurance provider may pay for the costs.
When your vehicle is in need of an axle replacement, it's a good idea to contact a vehicle repair shop. A vehicle repair shop will give you the best possible estimate of the cost and time to repair the axle.




editor by CX 2023-03-29